Weincloud - Cloud monitoring platform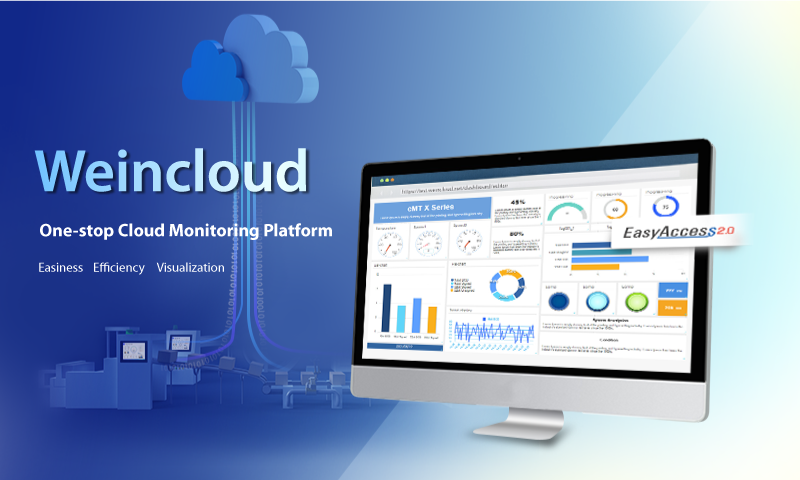 In the face of pandemic-induced changes in the business world, companies have an urgent need to accelerate digital transformation.
Even in the light of Plan 4.0 introduced by many countries, including Italy, cloud integration plays a key role, but its technical and cost barriers have often prevented businesses from moving forward.
In light of this situation, Weintek introduced the new Weintek Cloud Service, o Weincloud.
What it is Weincloud?
Weincloud is composed of EasyAccess 2.0, Weintek's existing remote access service, integrated with a new service Dashboard cloud-based.
The system aims to help companies accelerate the implementation of digital resources and improve the efficiency of production and monitoring.
What is the Dashboard?
la dashboard cloud visualisation enables the visualisation of data in the field to help managers get a quick overview of the status.
After service activation DashboardIt only takes a few steps to start sending the data collected from the plants and customise a cloud monitoring centre.
A single Dashboard can display data from several installations.
Thanks to the powerful connectivity and exceptional computing power of Weintek's panels, key information such as production data and utilisation rates can be clearly displayed on the screen. Dashboard.
The distinctive advantage of Weincloud is that users are able to obtain detailed information on their operations from anywhere in the world, simply by opening a browser on a computer, without having to worry about technical details, server hosting or encryption.
In addition, since EasyAccess 2.0 is now considered part of WeincloudAn integrated interface is provided for more effective management of operator panels and user accounts. Note that EasyAccess 2.0 and Dashboard are separately licensed and users are free to use one or both functions according to their needs.
Now it's time to create your dashboard, using Weincloud!
Supported devices: