After more than 16 years of development, the Weintek development department has never stopped updating EasyBuilder, a powerful software that greatly simplifies the editing of the displayed project and supports multiple types of communication protocols: Ethernet/IP, Modbus TCP.
With EasyBuilder PRO users are sure to communicate with peripheral devices with ease, and complete their projects in the shortest possible time.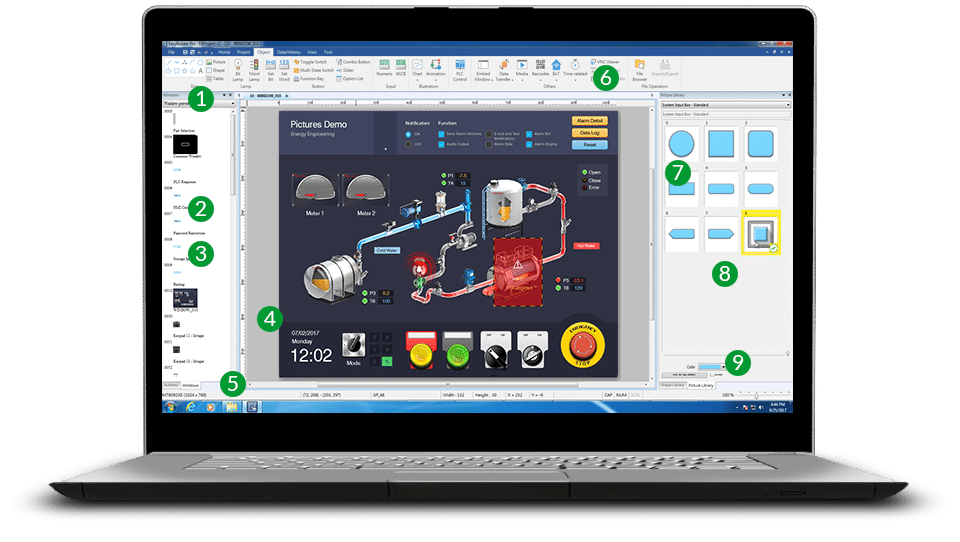 The "Function Bar" is grouped by functions and simple icons make it easy to use.
"Dynamic Project" consists of multifunctional objects such as numeric objects, alarms, bars, timers and many others.
The window bar displays all the object names and addresses that the window contains.
The main window makes it easy to create functional objects and design the user interface.
"Address Tag" can be assigned to the corresponding PLC to make it easier to read.
The "Recipe" database provides sufficient and secure "Recipe" to ensure that the data is intact and secure in all respects.
"Label Tag" enables multi-language environment and supports up to 8 different languages at the same time.
Macros perform arithmetic, logic and string manipulations.
The operation logs record all operations that are saved in a CSV file to keep track of all changes.
Follow this video to learn the simple steps to create a new project: Setting > Design > Download
Starting EasyBuilder Pro and setting system parameters
Select the PLC type and set the communication parameters. The communication parameters can be set automatically according to the selected PLC type.
Edit and Compile Objects
After configuring the screen, create the necessary files for downloading to the terminal. The package includes powerful objects.
Download
Use the Project Manager to quickly download project data to the device. After download, the operator terminal is automatically activated.