Description
The New Weintek iP series of touch screen HMI is composed exclusively of terminals with an exceptional price for value and replaces the old iP Series.
These HMIs are all equipped with wide screen displays (16/9), with a large display surface related to the size of the device.
All devices are equipped with 16 Million colours TFT display with LED backlight to minimize the consumption and ensure a long lamp life, powerful Cortex A8 600MHz microprocessors, 128MB of flash memory, 128Mb RAM, USB 2.0 Host/Client (where applies).
The EasyBuilder Pro editor, totally free, is the new development environment designed specifically to take full advantage of new hardware: the new editor has all the features of EasyBuilder 8000 (including the macro tool) but offers new advanced features, including:
Enhanced user accounts support (up to 14 access levels and 128 user accounts,
Support temporary user accounts via USB Security Key,
User-level Macro Library support,
EasyWatch function to help you in monitoring and remote debugging,
E-mail notification feature (not supported on this series),
Recipe objects in a database format for easy control, search and management of information's.
Available more than 250 drivers to ensure easy connection to PLC, temperature controllers, barcode readers, etc..
The free programming software allows also the full PC emulation for a complete test of the project independently of the physical device.
To connect the terminals with the Netsyst and SlimLine controllers, we suggest to use our adapters and cables code CBL054*000 and CBL057**00.
For the serial connection of MT6051iP and MT8051iP only the VEPV003000 code should be used instead of cod. CBL054*000, as described in this table.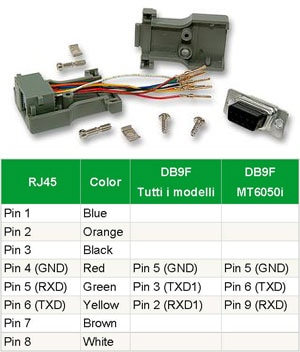 These terminals are compatible with NEMA-4 and IP65 (front panel) standards and they are designed to be mounted in a panel cut. No screw holes are required; mounting hardware is included with the unit.
Registering to Weintek's website, it's possible to download a lot of graphic symbols, through the section download.
For a complete list of HMIs supplied by our Company, see this link.